ACO

Product List

ACO Quick

Guide

More ACO

Info

ACO

Spec

ification
Free Shipping on Orders Over $400 - Excluding Neenah Products - Contiguous US Only

Most Popular ACO Trench Drain Series
KlassicDrain K100S/KS100S
The world's most widely used modular trench drain is an interconnecting, general purpose 4" internal width drain system for both internal or external use. The system features an aesthetic, integrally cast-in, steel wearing edge. A wide range of grates in different styles are secured into the channel unit by the boltless locking "QuickLok" system.


PowerDrain S100K/S300K
An extra heavy duty trench drain system available in 4" and 12" internal widths. Each channel unit has a cast-in, ductile iron, wearing edge rail which provides support for the 200,000 lb (90 ton) load bearing grates. Grates are held captive by the unique "PowerLok" boltless locking system.


FlowDrain FG100/FG200
A lightweight 3.75 " and 8" internal width system manufactured from corrosion resistant fiberglass. Each channel has a choice of steel grate supporting frames which are quick fixed to the channel units by means of push studs. A variety of grates are available for both sizes.

ACO Pictures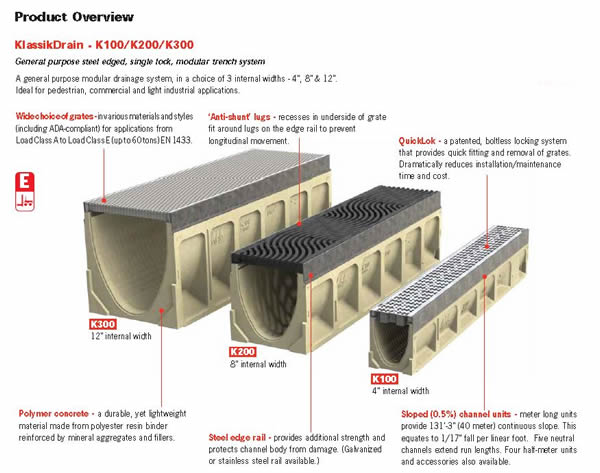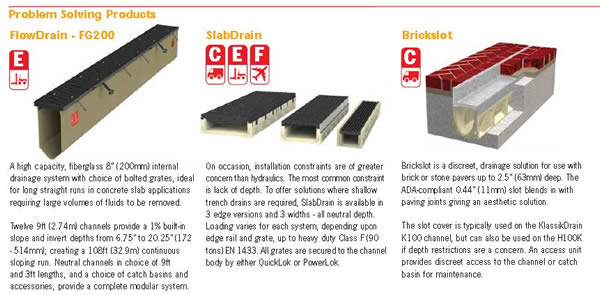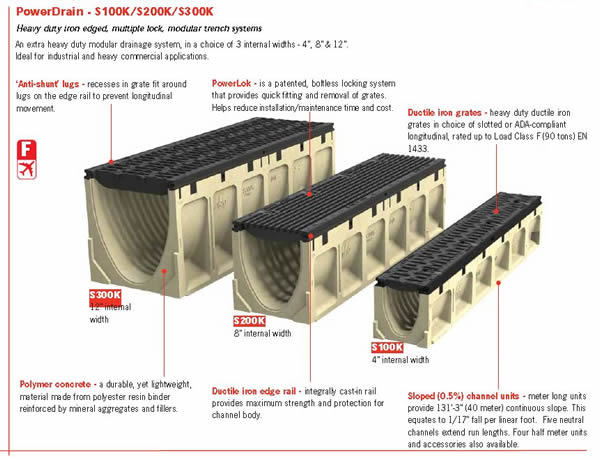 ACO Specifications
Specs coming soon! Contact us for Spec Sheets.