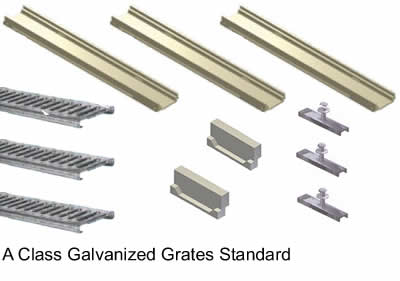 6" Wide Polycast 500
Shallow Polymer Concrete
with Polymer Edge
Complete kits from 8 to 96 feet
48" Channels and Large Variety of Grates Available.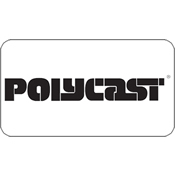 Kit

Price

s

10-99 Ft

Features

More

Info

rmation

Pic

ture

s

Spec

ification
TPC500 Series - 6" Wide Polycast 500 Shallow Concrete - Galvanized Grates - Endcaps
Click on "Configure" For more Detail And Upgrade Options for each Length
Free Shipping on Orders Over $400 - Excluding Neenah Products - Contiguous US Only
Features
Overview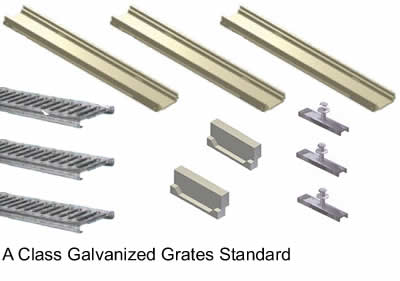 Complete system - Each Kit includes:
Specified number of 4 foot (48") sections of
6" wide shallow concrete trench drain
Specified number of grates

2 - Solid End Caps

Specified Number of Grate Lockdowns.
2 foot Extension Available
Installation Chairs Available
Key advantages of Polycast 500 Series Shallow Concrete Trench Drain:
The POLYCAST® 500 Series Deck Drain System is ideally suited for a variety of above grade applications requiring drainage of incidental water run-off.
The 500 Series is POLYCAST's shallowest drain, measuring O.D. 48" x 6.25" x 2.5" and I.D. of 48" x 4.25" x 1.75".
It is designed to be installed in suspended slab applications, such as parking structures, pool deck areas, and many other thin slab applications.
The precast sections are made up of 4' lengths. Each section has a 4" bottom cut-out for pipe connections.
Vinyl Ester Polymer Concrete is used for high corrosive and high temperatures applications,
contact us for a quote on Vinyl Ester Polymer Concrete Applications.


Frames are available for use with hard wheel Traffic.
Need more information?
Contact Us
Today!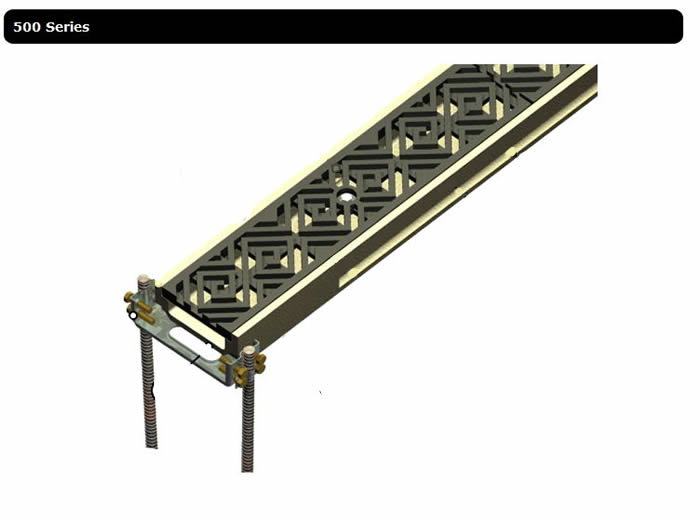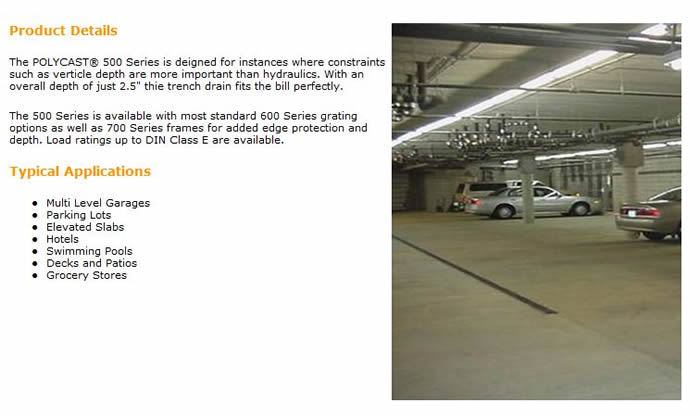 More Information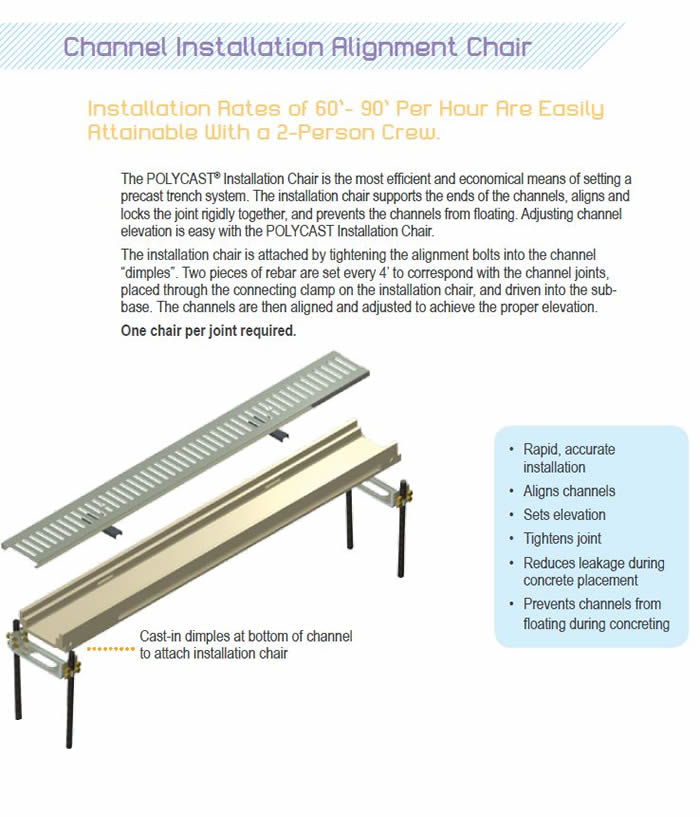 Accessories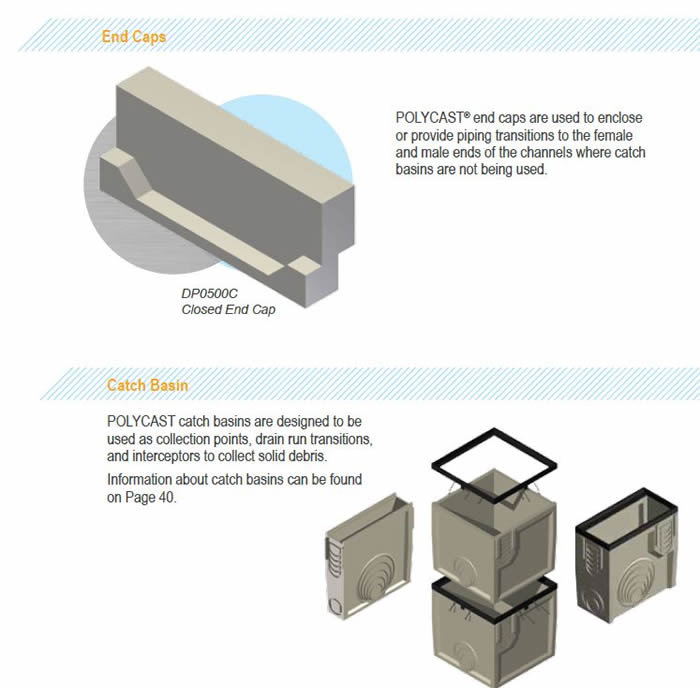 Channel Adapters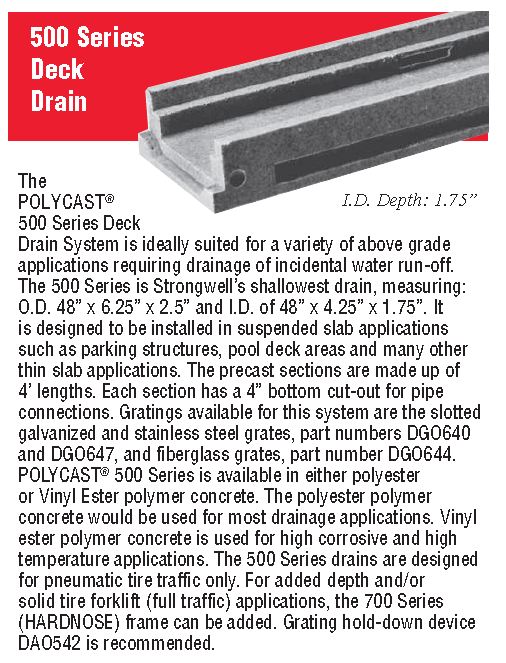 Pictures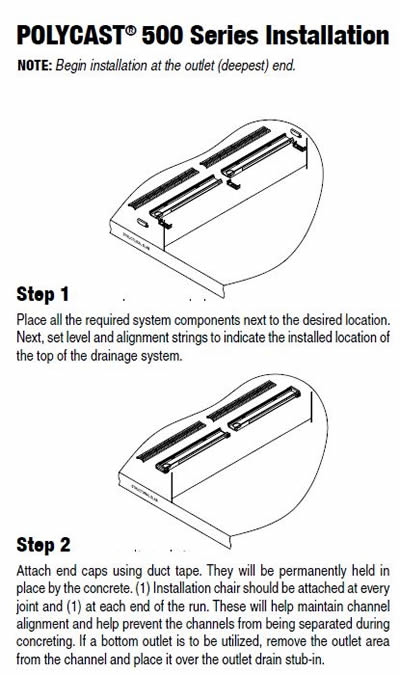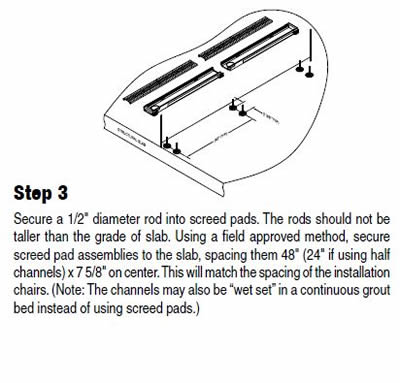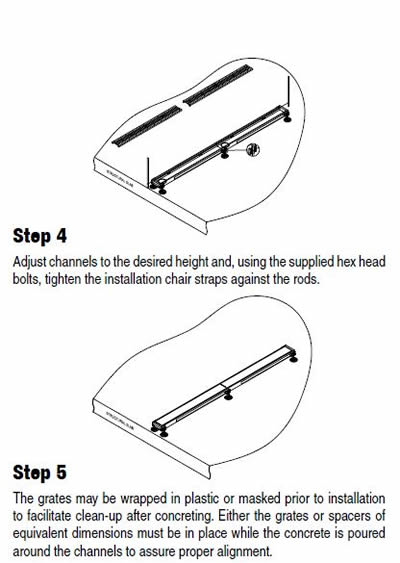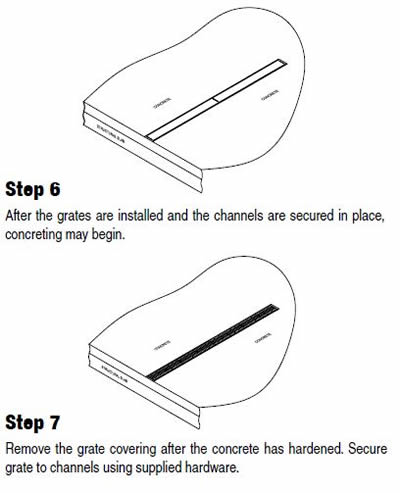 Specification
TPC500 - POLYCAST 500 Shallow Specification
---
TPC 500 / 600 700 - POLYCAST 500 / 600 / 700 Grate Specifications
Price /