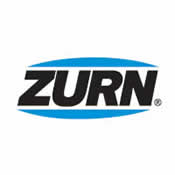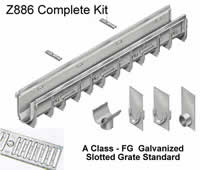 6" Zurn Z886 Trench Drain
Complete kits from 6 to 100 feet
Smooth High Density
Polyethylene (HDPE)

Available in Flat or Presloped

Click on "Configure" to select fall option
Kit Prices 6-100 Ft
Features
More Information
Pictures
Specification
Individual Items

CPZ886 Series - 6" Wide HDPE Channel - FG A Class Galvanized Slotted Grates - End Caps - Bottom Outlet

Click on "Configure" For more Detail And Upgrade Options for each Length
The following discounts apply to all these products.

Arbor Day Discount on Orders Over $400.00 - Order Today!

| | | | | |
| --- | --- | --- | --- | --- |
| ID | Name | Description | Price | |
| | 6" Wide Zurn Z886 Trench Drain Kit 6 Foot Complete | | | |
| | 6" Wide Zurn Z886 Trench Drain Kit 10 Foot Complete | | | |
| | 6" Wide Zurn Z886 Trench Drain Kit 13 Foot Complete | | | |
| | 6" Wide Zurn Z886 Trench Drain Kit 16 Foot Complete | | | |
| | 6" Wide Zurn Z886 Trench Drain Kit 20 Foot Complete | | | |
| | 6" Wide Zurn Z886 Trench Drain Kit 23 Foot Complete | | | |
| | 6" Wide Zurn Z886 Trench Drain Kit 26 Foot Complete | | | |
| | 6" Wide Zurn Z886 Trench Drain Kit 30 Foot Complete | | | |
| | 6" Wide Zurn Z886 Trench Drain Kit 33 Foot Complete | | | |
| | 6" Wide Zurn Z886 Trench Drain Kit 36 Foot Complete | | | |
| | 6" Wide Zurn Z886 Trench Drain Kit 40 Foot Complete | | | |
| | 6" Wide Zurn Z886 Trench Drain Kit 43 Foot Complete | | | |
| | 6" Wide Zurn Z886 Trench Drain Kit 46 Foot Complete | | | |
| | 6" Wide Zurn Z886 Trench Drain Kit 50 Foot Complete | | | |
| | 6" Wide Zurn Z886 Trench Drain Kit 53 Foot Complete | | | |
| | 6" Wide Zurn Z886 Trench Drain Kit 56 Foot Complete | | | |
| | 6" Wide Zurn Z886 Trench Drain Kit 60 Foot Complete | | | |
| | 6" Wide Zurn Z886 Trench Drain Kit 63 Foot Complete | | | |
| | 6" Wide Zurn Z886 Trench Drain Kit 66 Foot Complete | | | |
| | 6" Wide Zurn Z886 Trench Drain Kit 70 Foot Complete | | | |
| | 6" Wide Zurn Z886 Trench Drain Kit 73 Foot Complete | | | |
| | 6" Wide Zurn Z886 Trench Drain Kit 76 Foot Complete | | | |
| | 6" Wide Zurn Z886 Trench Drain Kit 80 Foot Complete | | | |
| | 6" Wide Zurn Z886 Trench Drain Kit 83 Foot Complete | 1000" (83.00 Ft) Complete | | |
| | 6" Wide Zurn Z886 Trench Drain Kit 86 Foot Complete | 1040" (86.00 Ft) Complete | | |
| | 6" Wide Zurn Z886 Trench Drain Kit 90 Foot Complete | 1080" (90.00 Ft) Complete | | |
| | 6" Wide Zurn Z886 Trench Drain Kit 93 Foot Complete | 1120" (93.00 Ft) Complete | | |
| | 6" Wide Zurn Z886 Trench Drain Kit 96 Foot Complete | 1160" (96.00 Ft) Complete | | |
| | 6" Wide Zurn Z886 Trench Drain Kit 99 Foot Complete | 1200" (99.00 Ft) Complete | | |

Z886 System Features
80" Modular Channl Sections with 20" and 40" Grates.
.75% Built in Slope - Handles Greater Flows, Uniform Shape
Radiused Bottom - Better Flow Rate - Less Debris Build-up
Smooth HDPE Structural Composit Interior - 0% Water Absorption
Durable and Lightweight
Variety of Gratings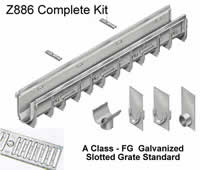 Complete system - Each Kit includes:
Specified Number of Trench Drain Channel

Specified Number of FG Galvanized Slotted Grates
All Grate Lockdown Hardware

1 - Bottom outlet connector

2 - Solid End Caps

1 - End oulet .

Key advantages of Zurn Z886 6" Wide Trench Drain: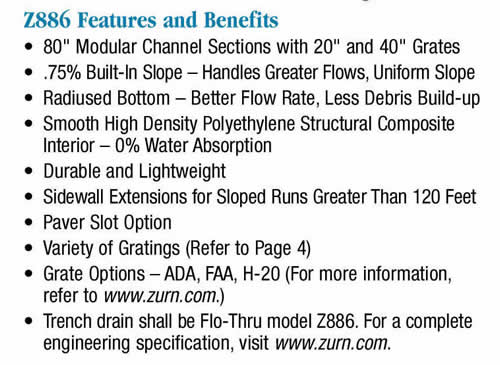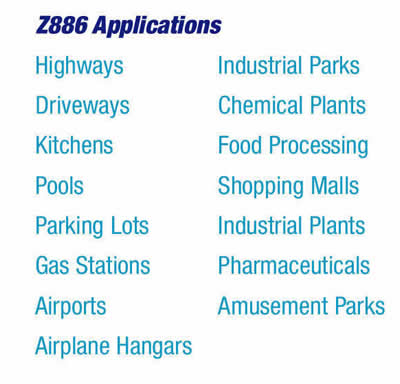 More Information
Grate options

Z886 Trench Drain Comes with a Variety of Grating Options including 9 Colors of HPP Grate Colors.

Trench Drain Supply can supply any of the grates listed. Our CPZ886 Series Trench Drain Kits list the most popular grating options, but we can customize a quote with any specific grate required.
Just contact us if you need a grate not listed with the kits.

To View Replacement Grates Only Click Here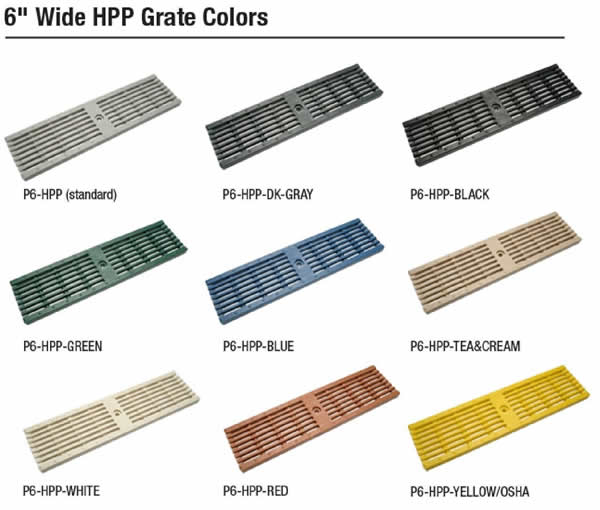 Pictures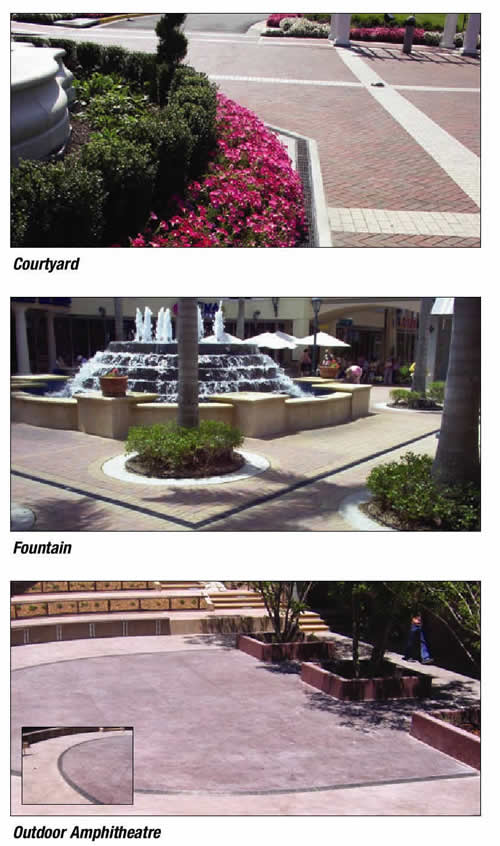 Specification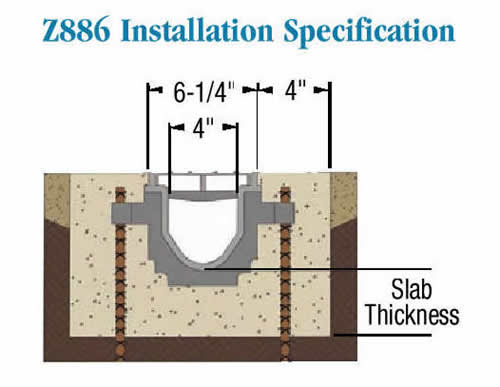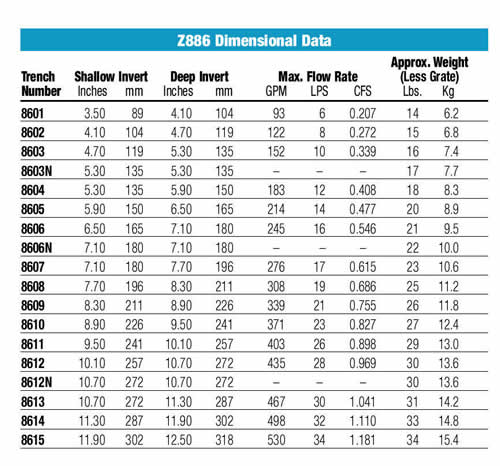 Individual Items


Click here

to view individual 6" Wide Zurnn Z886 Channel and Accessories.